Plante's Ferry Sports Complex
12320 E Upriver Drive
Spokane Valley, WA
Plante's Ferry Sports Complex is a multi sport stadium home to 5 softball or "diamond" fields and 13 soccer or "rectangular" fields. Both of the diamond and rectangular fields are maintained and operated by Spokane Rapids.  In addition to soccer events, facility rental is available for a variety of other sporting events including cross country, rugby, and lacrosse.
Please click the link below for more information on how to submit a facility rental request for your event.
Spokane Rapids Youth Soccer
Plante's Ferry Sports Complex is the home of Spokane Rapids Youth Soccer.  Registration is open now for youth players whose birth year falls between 2017 and 2007.
Spokane Rapids Adult Soccer
New this season, Spokane Rapids is hosting an adult recreational league!
COED divisions with games on Saturday
Women's division with games on Wednesday evenings
Plante's Ferry also hosts Inland Northwest Soccer Association COED games on Sundays, and Men's league games Monday through Thursday.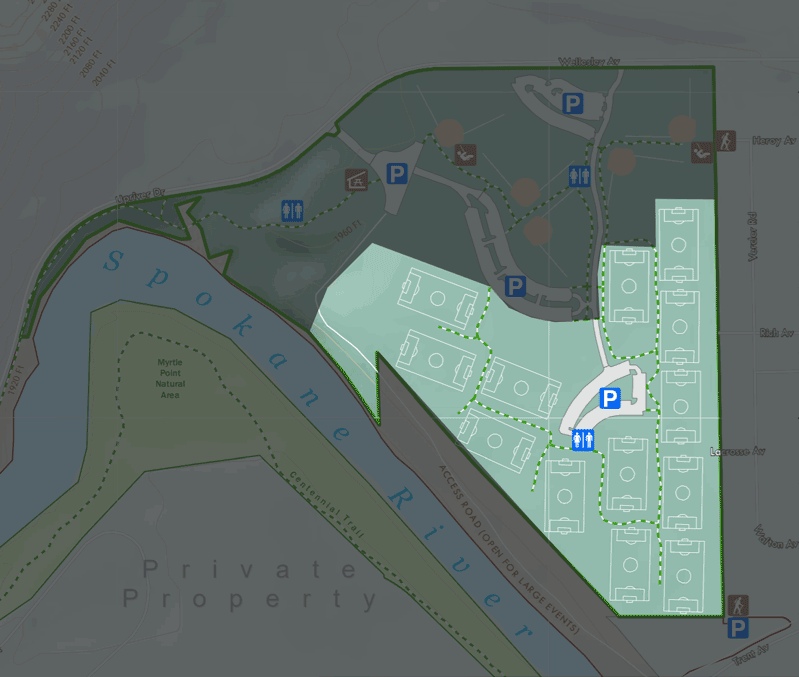 Get More Information
Sports Field Rentals
Field Request* open for all users on the below dates for the below months. All requests must be submitted in electronic format to fieldrental@plantesferrycomplex.com starting at 8:00 am on the date(s) below:
Submission open 02/28/21 for March 10, 2021 – May 30, 2021
Submission open 05/17/21 June 1, 2021 – August 31, 2021
Submission open 08/16/21 for September 1, 2021 – November 30, 2021
*Field requests will be accommodated to the best of our ability in the order of reservation, however are not guaranteed until confirmed in writing by our office, Spokane Rapids @ Plante's Ferry Sports Complex, and a signed rental contract has been received by the user.
Field Locations